Sunbrella Outdoor Curtain Collections
Sunbrella Outdoor Curtain Collections
Step 1: Choose Your Fabric Collection
Step 2: Choose Your Hang Type
Step 3: Choose Your Color and Size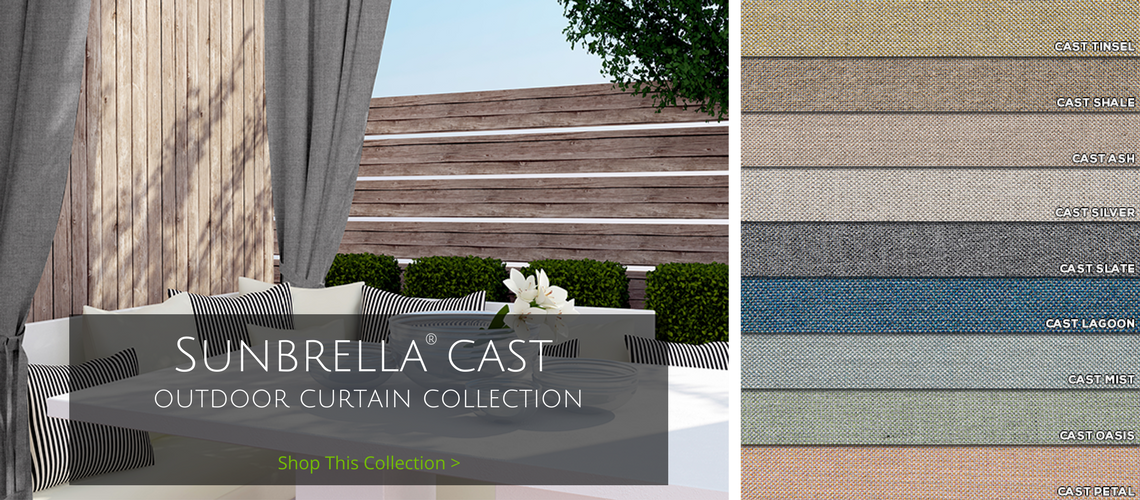 ---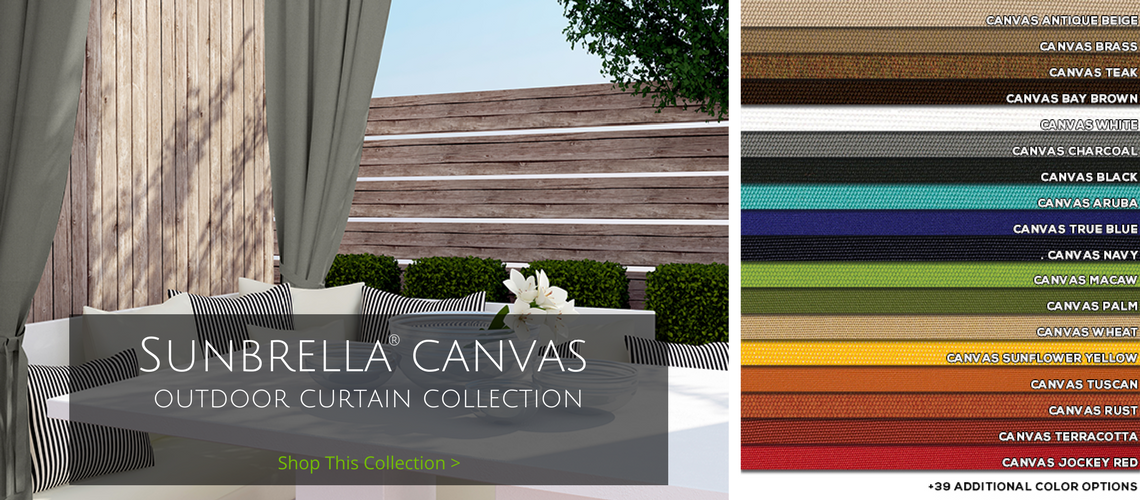 ---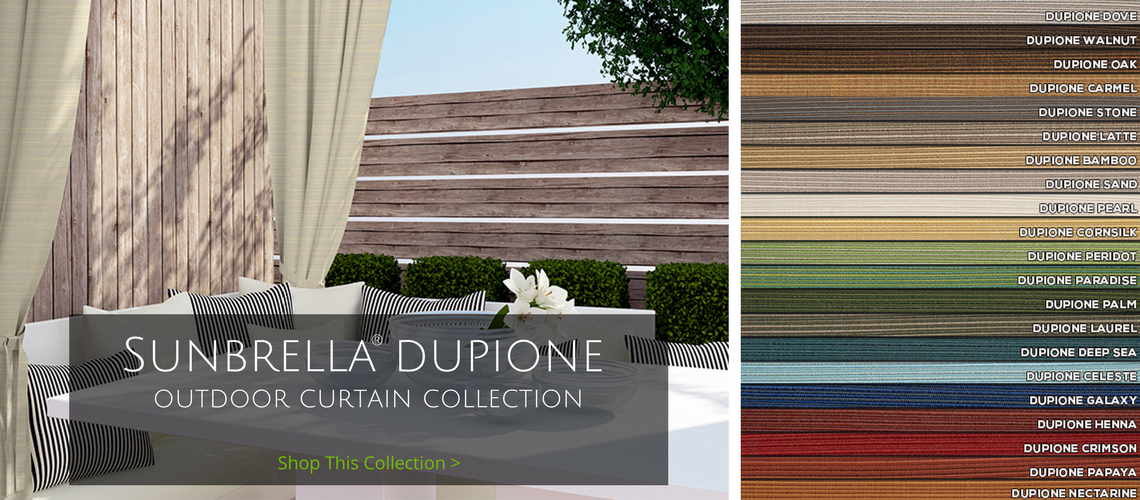 ---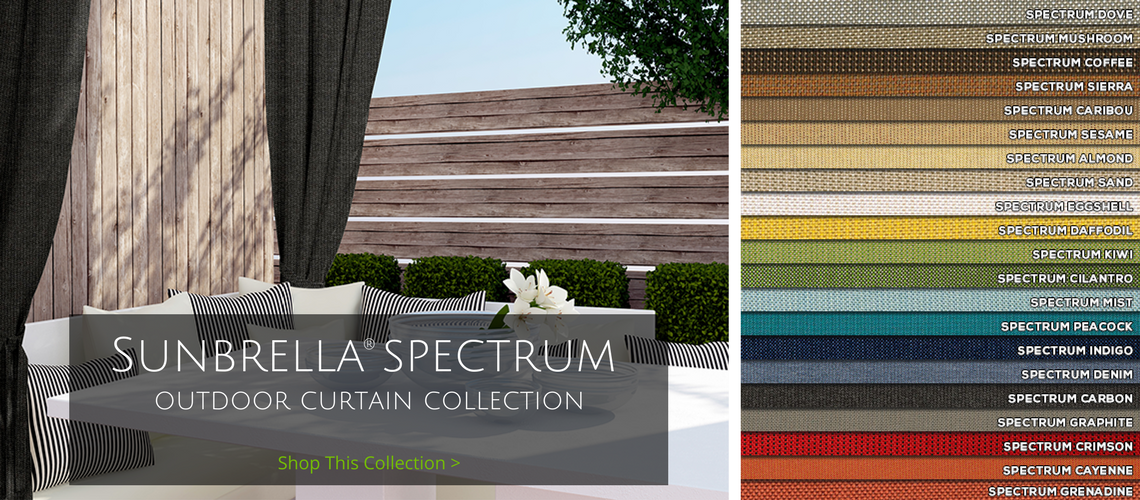 ---
---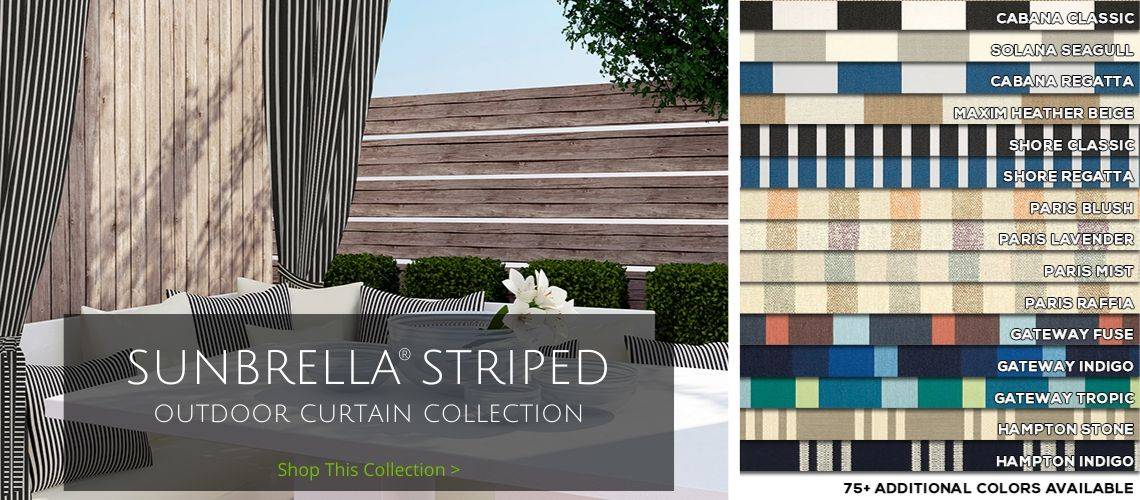 ---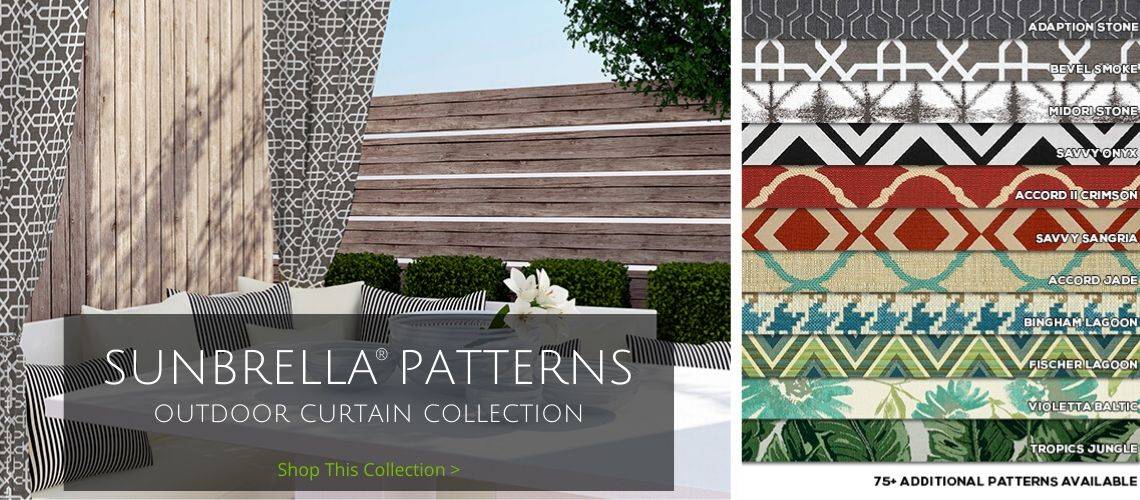 ---
Why choose Sunbrella Outdoor Curtains from Patio34?
Made in America Our Sunbrella outdoor curtains are handcrafted right here in the USA by skilled craftspeople, because to us, quality matters! Every single panel is hand measured and cut to your exact specifications. From there it moves over to our industrial walking foot sewing machines where the hems are carefully and meticulously installed using heavy duty UV resistant thread. If our grommet top hang type was chosen we will then install our plated brass grommets, all of which are installed by hand to ensure a perfect hold every time. Last, we will fanfold each panel by hand. Fanfolding helps ensure that your outdoor curtains are as free of creases as possible when they arrive at your doorstep.
Made to Order Because all of our Sunbrella outdoor curtains are made to order, we are able to build them to your exact specifications. We make everything in house, so we can easily customize your outdoor curtains to fit your exact project and needs.
Largest Selection Anywhere We have worked hard to bring you the largest selection of Sunbrella outdoor curtains available anywhere. We offer 100's of Sunbrella fabric options, unlimited size options, multiple hang types, multiple grommet color options, and more! We are authorized Sunbrella manufacturing partners, so all of our fabric comes direct from the Sunbrella mills giving us the widest selection possible.  
Family Owned and Operated We know you have options when it comes to purchasing your Sunbrella outdoor curtains, but we also know that people want to do business with other people....at least we know we do! We are a family owned and operated business that cares deeply about our customers. We have spent years perfecting our products and learning them inside and out! We know what works and what doesn't and we will be here to guide you step by step through the process of selecting the best outdoor curtains for your project.
---
How to measure for Sunbrella Outdoor Curtains
Length Measurement: The length measurement is one of the most important measurements that you will need to make when preparing to order your Sunbrella outdoor curtains. An important first note is that all of our panels are measured from the very top of the panel to the very bottom of the panel. The first step in measuring is find the height where the top of your curtain rod will sit. If you have a rod installed already this will be easy. If there is no rod installed then you will need to decide where the top of the rod will sit once installed and measure using that point. Using a tape measure, measure from the ground or floor to the top of the curtain rod (or imaginary rod if you have not installed one yet). Now that we have that measurement we will need to do a little math. First we need to subtract 1" to account for the clearance that we will want from the ground to the bottom of the panel. Next we need to decide which hang type we will be using. If using a grommet top, we will need to add 1 3/4" to account for the fabric above the rod. If using a tab top or pole pocket we will add in 1/2" as a general rule of thumb to compensate for the length that we will lose when the curtain is hung on the rod. Please note that the 4" tabs are included in the overall length measurement, as are the pole pockets.
Width Measurement: The width measurement is a bit easier and more straight forward. It is important to note that "fabric width" and "hung width" are slightly different. The width you see when ordering on most of our outdoor curtains will be 50" (this is due to the width of the rolls of Sunbrella fabric), however your "hung width" will be slightly less than that. Using a tape measure and a helper if you have one, simply measure the opening that you are looking to cover with your Sunbrella outdoor curtains. Next, to make this easy, we will want to convert our opening measurement to inches only. For example if your opening was 11 ft. 6 in. we would convert that to 138 inches. From here we can decide how many panels we will need to cover our area. As another rule of thumb, each panel will cover approx 40 inches while still accounting for some fullness in the panel. So in our example above, our 138 inch opening will need 3.45 panels (138 divided by 40). We will round up to 4 panels for this to keep things looking symmetrical.